Social Events
Welcome Reception (Sunday 19th April)
There will be a Welcome Reception including an "Astronomy and Music " event, hosted by Mr Jon Culshaw, on the evening of Sunday 19th April from 6.00pm onwards as follows:
6.00 pm: Welcome Buffet and Drinks in de Havilland Restaurant
7.30 pm: Transfer (less than 5 minutes walk) to The Weston Auditorium
8.00pm: Music and Astronomy Event
Please confirm your attendance at this event on registration, so that ample refreshments are available!

Five-a-side Football Competition (Monday 20th April)
There will be a five-a-side football competition on Monday 20th April. For more information and details of how to enter, click here .
Conference Trip (Tuesday 21st April)
The conference trip, on Tuesday 21st April, will be a three hour boat ride on the river Thames, viewing some of the famous sites of London. A buffet meal will be provided and there is a welcome drink. The dress code for the river trip is casual.
For an approximate route of the trip, and some of the views you may be able to see on the trip, click of the images below.

Will we also be providing transportation to London for those people not wishing to go on the river trip, but who would like to visit the Capital. We anticipate that you will arrive in London at Embankment Pier (WC2N 6NU) at 19.30, and you will be picked from the same location at 22.30 hrs. As a guide to "what's on" in London, you might want to visit Time Out.
Coaches will leave from outside Residential Services at 17.00hrs TBC and you will be dropped off at the Embankment. Buses will leave the Embankment for Hatfield at 22.30. We will not be checking people in and out, as some people may decide to leave earlier or later and use the trains from Kings Cross to get back to Hatfield.
Conference Dinner (Wednesday 22nd April)
The Conference Dinner, on Wednesday 22nd April, will be a private Elizabethan Banquet at Hatfield House , previously home to Elizabeth I of England. During the evening, the Hatfield Players will treat you to authentic Elizabethan period music, song and theatre. King Henry VIII and Queen Elizabeth I, together with their Courtiers, will amuse and entertain you. Further information is available from the Hatfield House website. The dress code for Hatfield House is smart.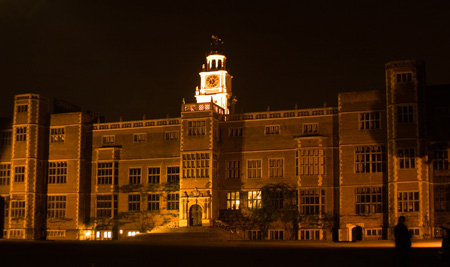 Buses will leave from outside Residential Services. Two will leave at 18.00 (or as soon as they are full), and then return to pick up the remaining delegates (estimated time 18.30). It is most important that we fill the first buses as soon as possible otherwise we will not get everyone to Hatfield House in time for the dinner!
When you arrive there will be a welcome drink and there will be a pay bar. If the weather is good the drink will be served on the Green, otherwise inside. Note that we are in the historic Old Palace, not Hatfield House (which is much newer). The buses will drop you off in front of Hatfield House and its just a few minutes walk to the Old Palace.
If the welcome drinks are inside, then you will need to take your drink and move through to the Banqueting Hall as space is rather limited. You may sit at the tables (wherever you like, apart from the few reserved places), and/or get another drink from the bar.
The first (two) buses back to de Havilland will depart at 22.00 and the last bus will depart at 22.40. Don't miss it - it's a long walk back to the main road.