Information for Visitors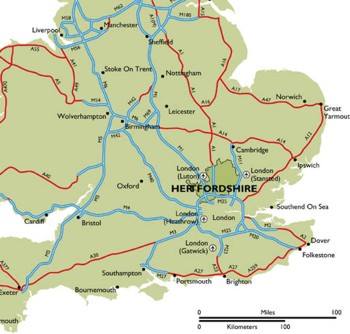 The University of Hertfordshire is based in the county of Hertfordshire. The Centre for Astrophysics Research resides in the Science and Technology Research Institute (STRI) on the College Lane Campus in Hatfield. The STRI is close to the Main Reception (see PDF map) and in the same building (about a 2-3 minute walk). Entry to the STRI is via a swipe card and visitors can ring their host to gain entry or someone from the STRI office will come to help.
You can use the University "How to find us" page, for comprehensive information on reaching the University. However, these are aimed mainly at students so we do give below some additional information.
If you wish to get a taxi directly from any of the airport, you are advised to get your local contact to pre-book this for you (a possible exception is Luton Airport which is relatively near, ~18 miles). Taxi fares from the airport ranks are prohibitive and if you are forced to take this route, you should agree a fare in advance of travel. In all cases you should be prepared to pay by cash, not credit-card.

The rail station is about a couple of mils from the College Lane Campus so not easy to walk with luggage. Take a bus direct to the Campus or use taxis. Some local taxi firms and numbers are: Simon Cabs (01707 251500); Hilltop Taxis (01707 271266); Station Taxis (01707 272000). Do make sure you tell the driver that you want the College Lane Campus. You may find that you will be asked if you want to be dropped at the end of College Lane, by the bus barrier. This is just a side entrance and may save you time sitting in traffic (it will probably be cheaper, too). If you are dropped at the bus barrier simply walk past the barrier and you will see the Art and Design building on your right. You can then use this PDF map to get to main reception.

If you intend to drive to the College Lane Campus and park on-site, you will have to obtain a parking permit from main reception on arrival. Ask your local contact to make the necessary arrangements beforehand and there may then be a designated parking place for you already. If you park on-site without a permit, you are likely to be clamped!

If you intend to stay overnight, there are a number of hotels within walking distance of the University. Here we list the nearest three hotels to the College Lane and de Havilland campuses. Speak to your local contact or the STRI Administrator, Mrs Kathy Head (01707 286404) for booking with University rates. There are also cheaper Bed & Breakfasts; your local contact can advise.